Harry Ling
[currently under construction - anyone who knew, or has additional information about my father, please contact me]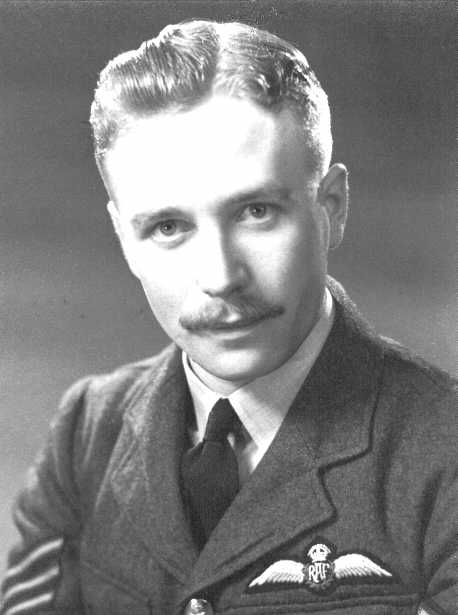 Harry Frederick Ling, my father, was born on 14 September 1921. His father was Charles Ling, a shipwright, and his mother was Beatrice (née Boosey).
During World War 2, he joined the Royal Air Force and was known as number 1338849, W/O Harry Ling, pilot (airmen). He joined 230 Squadron, South-East Asia Command and his commanding officer was W/Cmdr D E Hawkins.
From 1941-1944, he served in the UK, Canada, USA, Koggala in Ceylon and elsewhere. He was awarded the 1939/45 Burma Star, Pacific Star Clasp, Burma Star and Defence Medal.

The original crew of H (from information kindly supplied by Eric Holloway) was:
F/Lt Ross Bohm, an Australian who was pre-war RAF. He left the crew at Koggala as he and the CO, Wing Commander Bednell, did not get on.
F/O Emil (Baron) Holstein, a Canadian civil airways pilot pre-war. He became a dentist in Montreal, but died of cancer in 2002.
Sgt Harry Ling, Second pilot. Died in 1988.
F/O Vic Madely, Navigator, a schoolteacher. Lost touch in 1947.
Eric Holloway, Senior of 3 Wireless Ops. Left the service as F/O 1946. Died in 2010.
Sgt Bob Stagg, 2nd WOP. Drowned in Redhills Lake in 1945.
Sgt John Bevan, 3rd WOP, left the service as F/O. Died late 1980s.
Sgt Stan Ambrose, Senior Flight Engineer. Died in a motorcycle accident 1948.
Sgt Johnny Jarratt, Flight Engineer. Died in 1999.
Sgt George Hodgson, Rear Gunner. Oldest man on the crew. A pleasant, mild-mannered man, who never argued or rowed with anyone. Lived in Wallasey and last seen in 1965.
Sgt 'Barney' Barnard, Air Gunner. The youngest man on the crew.
Lord Gainford, chairman of the 230 Squadron Association, wrote to me in 2005, 'I remember your father very well. He was a good man to have around. At Koggala, where 230 Squadron was based, your father was in one of the rooms near to mine. I had a "Monopoly" set. Your father was one of a group of us who played the game in the evenings. We would take turns to be "host" and play in that neighbour's room. We would all keep smoking to keep the mosquitoes away.
This is the Sunderland Mk III, hull number, ML868 H, the aircraft my father flew for most of the War.

My father in charge of 'H' on patrol, somewhere
over the Indian Ocean.

Interestingly, in August 2000, Corgi made a limited edition, 1:144 scale model of a Sunderland MkIII and it was based on, and actually bore the markings of, ML868 - good old 'H'. See it at, http://www.collectiques.net/shop/catalogue/corgi/ava/southpacific.html Apparently, it sold out quickly, but I managed to buy one on 18 February 2005 on eBay.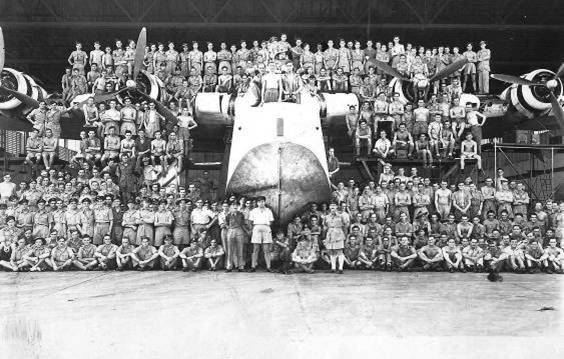 Some of 230 Squadron in Koggala, Ceylon (?). My father is fourth from the right, sitting in the front row. Click on the picture for an enlarged image.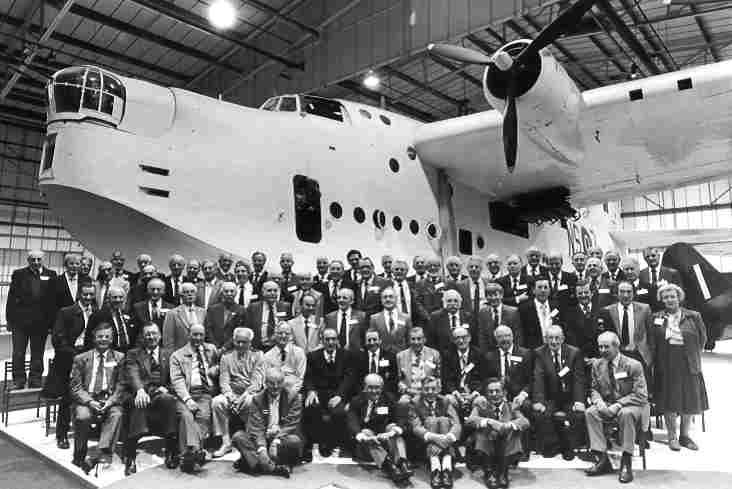 The 1986 Annual Reunion of 230 Squadron at Hendon. My father is seated on the far right. Eric Holloway, the sole surviving member of 'H', is seated on the far left.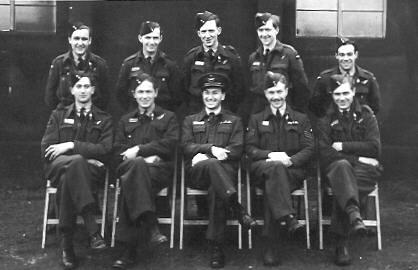 This is a Sunderland crew who had, I think, undergone some sort of training together. They are R Levy-Haarscher (captain, in the peaked cap); my father (2nd pilot) on his left. Also present are L. Muldoon (navigator); D W Underwood (WOM); D Davies (WOP) C G Green (senior engineer); D F Hurren (air gunner); A D Ball (WOP/air gunner); L R Shaw (flight engineer) and W L Burdon (air gunner). But who is who? Please let me know.
Resources
Deller, Alan (2004). The Kid Glove Pilot - A Personal Account of Flying Sunderlands in
World War Two. ISBN 1 904242 20 0. Colourpoint Books, Newtownards.
Holloway, Eric (2005). The Stars are my Friends. ISBN 1 84394 170 8. Serendipity, Darlington.
RAF Museum at Hendon, http://www.rafmuseum.org.uk/london/aboutus/index.cfm
Seaplanes & Flying Boats of the Royal Air Force. A video obtainable from
http://www.ddvideo.co.uk
Warner, Guy (2004). No 230 Squadron The Royal Air Force. ISBN 1 904242 33 2.
Colourpoint Books, Newtownards.