How To Be A Christian In A Brave New World
Joni Eareckson Tada and Nigel M de S Cameron
Zondervan, 222 pages; £9.99 ISBN: 0-310-25939-8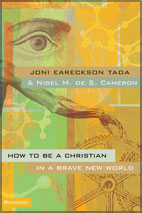 Oh, how I wanted this book to be exceptionally good, full of bioethical zip and zing! Written by two evangelical authors who have devoted a large part of their lives to the pro-life cause, it promised much. Sadly, it did not deliver that much. In style it is both odd and uneven. It meanders repetitiously between a mixture of folksy anecdotes and some dry analysis, all wrapped up in a self-conscious type of tabloid journalism. What this book needs is a jolly good copy editor to restructure it. Furthermore, it is directed almost entirely towards a US readership. OK, so Readers' Digest is not my favourite style, but what about this book's substance?
That can be condensed into the authors' clever little mnemonic showing the threefold shift in bioethical issues over the last forty years – the taking of life (abortion, embryo research and euthanasia), the making of life (IVF and cloning) and the faking of life (artificial intelligence and nanotechnology).
The authors' thesis is that we are heading towards a brave new world in which there is a greater and greater blurring of the distinction between people and things. Evangelical Christians, above all others, should appreciate the significance of this dilemma and respond appropriately.
Tada and Cameron acknowledge that Christians have made some progress in responding to the 'taking of life', specifically abortion, but they are less impressed by, for example, evangelicals who unthinkingly employ IVF and thereby open the door to quality control, selection and destruction of human embryos. And just as IVF is becoming so well embedded as public policy, the authors argue that now is the time to call for a ban on all human cloning, both reproductive and therapeutic, otherwise the 'making of life' battle will soon be lost. Moreover, 'faking of life' technologies are poised to start remaking human nature. Are we ready for Technosapiens? Will we be brave enough to meet these old and new bioethical challenges?
Despite the shortcomings of this book, its underlying message is too important to dismiss. Yet the beauty of biblical bioethics is that it is a well-structured, logical discipline. First, it is built on robust principles from which second, wholesome practices can be derived. The authors believe this too, but they have chosen to scatter the required pieces of information and for many readers it will prove too much to weave together the entire fabric.
Dr John R. Ling,
Aberystwyth.