A Little Speech at My Mother's 90th Birthday Lunch, at the Mill House, Swallowfield, Reading on Saturday 1 October 2011.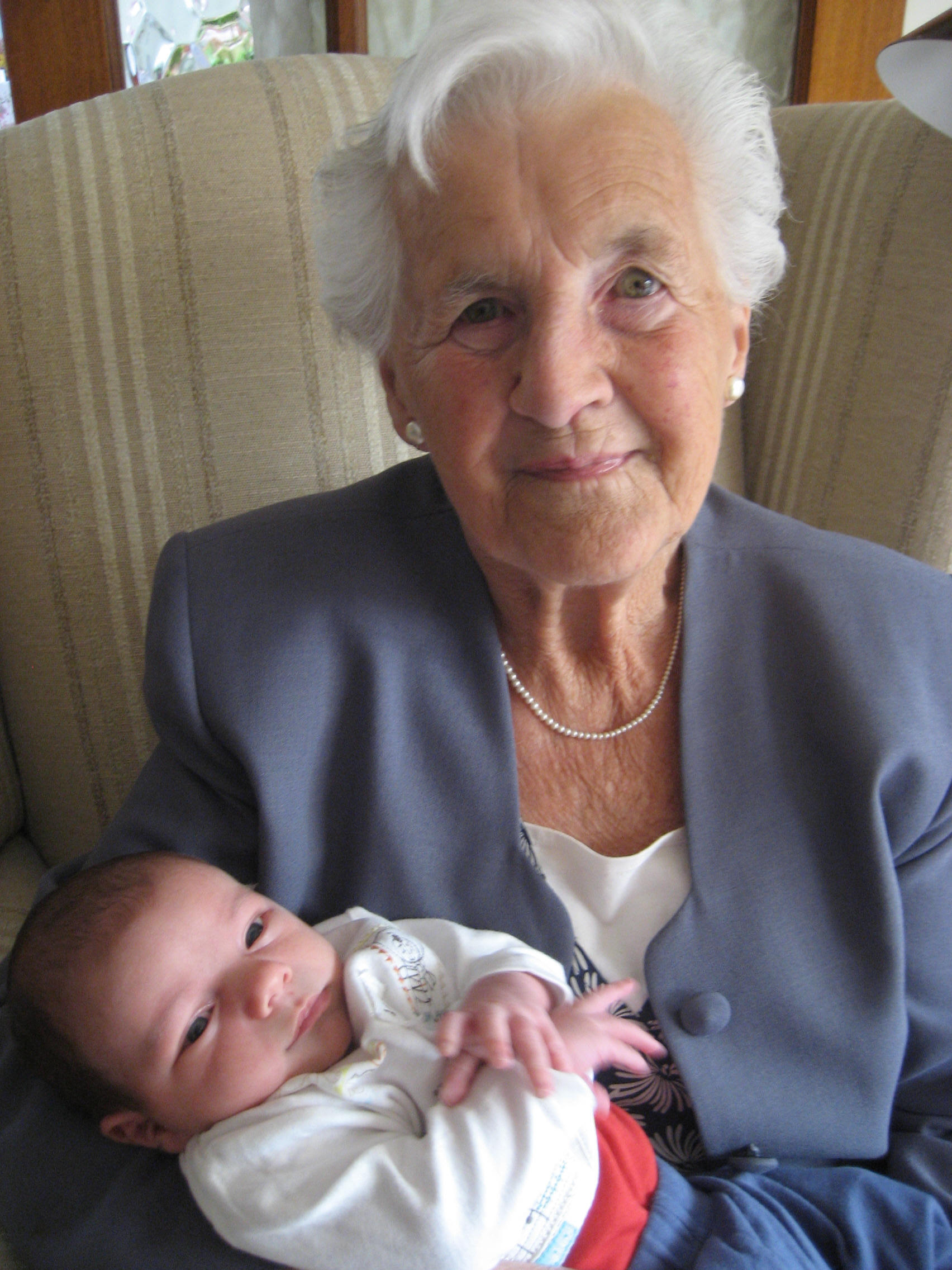 The oldest and the youngest,
Mum and Joshua.
Thank you all for coming. This is indeed a momentous occasion for Alan and me because our Mum – your sister, sister-in-law, mother-in-law, grandmother, great-grandmother, aunt, and all the step-relations too – is 90, even though 90 is now regarded as the new 65.
Yet we have a fundamental problem – nobody here is actually 90. Only on Wednesday 5 October does that occur. You are here under somewhat false pretences, but I suggest that we will continue anyway.
Did you know that 5 October is the most common birthday in the world? For example, in the USA, every single day about 0.75m people celebrate a birthday, but on 5 October as many as 1 million have a birthday. Why? Because it is 9 months after New Year's Eve!
I wondered, who else famous, besides Mum, has a birthday on 5 October.
1658 – Mary of Modena – queen of James II of England.
1703 – Jonathan Edwards – theologian, preacher of New England during the Great Awakening of the 18th century.
1858 – Heinrich von Battenburg – presumably from the cake family and German son-in-law of Queen Victoria.
1902 – Larry Fine – three Stooges.
1919 – Donald Pleasance – British actor.
1921 – PATRICIA WALLIS and Bill Willis, NFL guard of Cleveland Browns.
1924 – Barbara Kelly – Canadian actress.
1951 – Bob Geldof – Boomtown Rats.
1975 – Kate Winslet – that actress, born in Reading.
And thinking of that motif, that theme of 5, I thought of the 5th Commandment – 'Honour your father and mother.' Alan and I are commanded to do so, and I'm happy and privileged to do just that today.
And I also thought, who else was 90 in the Bible? There is only one woman referred to as 90. Abraham's wife, Sarah, was 90 when she gave birth to Isaac – let's move on!
Though I have shared only about 60 of those 90 years, I can remember most of them with gladness. My childhood was idyllic. When I was just a boy, I played in the woods and cornfields surrounding our home in rural Cambridge. Mum was a great provider. It seemed that she simply fed us and cared for us and called us in for bed at 7pm, and then 7.30pm, and again at 8pm. She mended our clothes, cleaned our cuts, and dabbed iodine on our scrapped knees. Mind you, I had to wash up the breakfast dishes every day and at the same time Mum made me complete a spelling test every day – that's why I can still spell 'relevant', 'separate' and 'accommodation'. And for all that I got pocket money of only 6d (2.5p) a week.
And she was a good and strict disciplinarian Mum. Once, while on holiday at home, just after we had had a telephone line installed, I dared my brother to phone 999. And stupidly he did! The emergency services were alerted and they were at the ready. Were we in trouble! When Mum came back from work, she uttered those immortal words, 'Wait till your father comes home.' Not long after, a 2-foot garden cane was laid on the table during meal times.
But she was a hands-off Mum too. She always encouraged us in our particular interests but gave us the freedom to develop and get into minor mischief. She was always keen to assist, though she never installed a gas supply in the house so I could have a Bunsen burner for my chemistry set.
Not long ago a mutual friend said to me, 'When I grow old, I want to be like your Mum.' What a tribute! And that's how we know her – happy, sanguine, trustworthy, not without trouble and difficulties, but always able to rise above them.
I always say that Alan and I have done a good job in raising Mum. That's partly true. But she would reprimand me if I did not acknowledge the part that her Lord and Saviour has played. Coming to Christian faith, to know God, in her 70s has both transformed and comforted her. What you really see in Mum is the fruit of the Spirit: '... love, joy, peace, patience, kindness, goodness, faithfulness, gentleness and self-control' (Galatians 5:22-23).
Now, as you know, this is a birthday without presents. Mum would like any gifts to go to the charity, LIFE. Though I am a trustee, you will be glad to know that nothing will come to me. LIFE is that anti-abortion group. We help thousands of confused, even desperate women/girls each year who are pregnant and wish they were not. We provide counselling, accommodation, practical help, education, and so on. You can donate via the LIFEcharity.org.uk website, or me.
Well, that's about all. What more can a grateful son say? Thank you! And Happy Birthday, Mummy!!