The Soul of the Embryo:
An Enquiry into the Status of the Human Embryo in the Christian Tradition.
David Albert Jones (2004), Continuum, London.
266 pages; £12.99. ISBN 0 8264 6296 0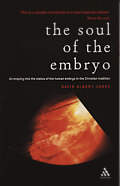 This is the best book that I have read [so far this year!]. The rest is coming soon.